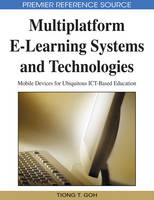 On July 17th the book titled
Multiplatform E-Learning Systems and Technologies: Mobile Devices for Ubiquitous ICT-Based Education
will be released. The book features the chapter
Tools For Students Doing Mobile Fieldwork
which is written by Mattias Rost, and Lars Erik Holmquist.
Here's the abstract of the chapter:
Students are not always sitting at their desk when learning new things – they are also out in the world. We present a set of tools we developed to support groups of students who are doing field studies. Initially, we gave the students a wiki for gathering field notes and their group work material. Based on observations on how they used it and collaborated, we developed additional tools to run along with the wiki. These include a mobile application for capturing data (photo, video, audio, and text) and automatically uploading to the wiki, and a set of web tools which run on top of the wiki for increasing the awareness between students, and for browsing the captured data. We describe the implementation of these tools and report on the experience from having students using them on their own equipment during the course.
You may order the book
here
.